County/U.S. Government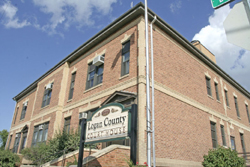 Napoleon is the county seat of Logan County. County offices are located within the Logan County Courthouse. Click HERE for Logan County's Web Site.
Click on the image for a larger view.
Commissioners
Dean Entzminger, Gackle - Chairman
John Wald, Napoleon - Vice Chairman
Blanche Schumacher - Napoleon


Listed are all the county offices along with contact numbers.
County Government

County Auditor - 754-2425
Clerk of Court/Recorder - 754-2751
County Treasurer - 754-2286
District Judge – 754-4701
Health Department - 754-2756
Logan County Economic Development Coordinator – 754-2000
NDSU Extension Service - 754-2504
Register of Deeds - 754-2751
South Central Special Education Unit – 754-2971
Sheriff's Office – 754-2495
Social Services – 754-2283
States Attorney – 754-2570
Tax Director/Veterans Service Officer – 754-2239
United States Government
Farm Service Agency - 754-2251
Logan County Soil Conservation District - 754-2234 Ext. 101
North Dakota Dept. of Transportation - 754-2901
Post Office - 754-2841